Astrox : Hostile Space Excavation
A downloadable game for Windows, macOS, and Linux
UPDATED !!! Build 66 (Feb 2016)

"Mine asteroids, refine and trade their ore, buy upgrades for your ship, hunt pirates in the procedural star systems and you'll have only scratched the surface of this wonderful game and maybe gained a couple of levels." - RockPaperShotgun.com
Astrox : Steam, Kongregate, and new build
I am currently working on Build 62, and I hope to have it ready in December. I have converted the project over to Unity5 to make use of all the new features it provides... and needless to say, things are shaping up nicely. I finally moved forward with this and have submitted the game to Steam Greenlight. I am not really that familiar with how this all works, but I figured it couldn't be any worse than not getting paid from Desura.
If you enjoy Astrox, please take a moment and click me a vote. I am just a solo developer and could use all the support I can get. Astrox is playable on the Windows, Mac and Linux OS.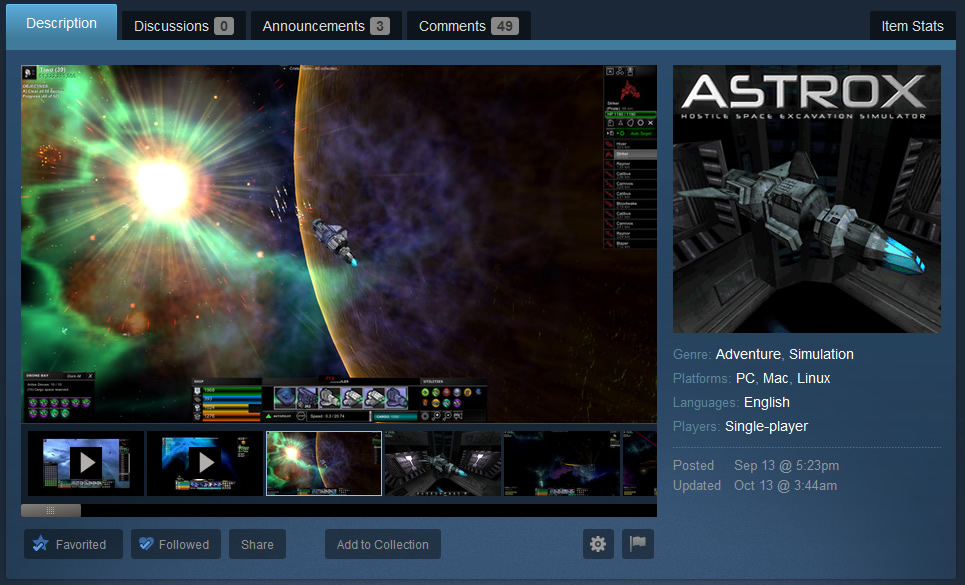 If you have never heard of, or played Astrox, and you enjoy survival space games where you mine rocks, hunt pirates and explore. You can play Astrox for FREE, right in your browser. You will need to have the Unity plugin for your browser. Head on over to Kongregate.com and give it a whirl. I must warn you though, you might get trapped a little longer than expected.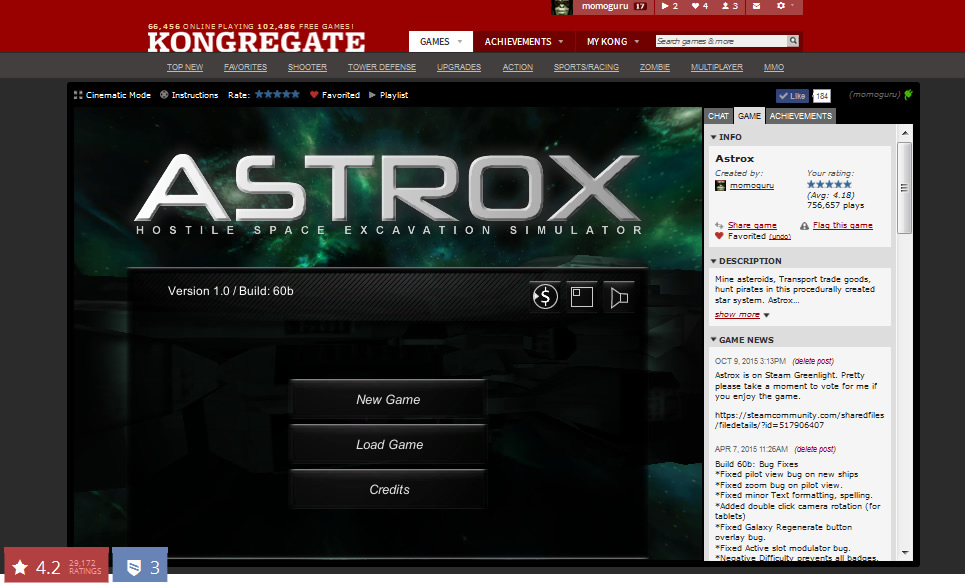 750,000+ Plays with over 26,000 votes, and a 4.2 / 5 rating. Astrox was included in the recent Best Game of Kongregate. Anyway, head on over and check it out. If you like it, please consider slinging me a vote on the Astrox : Steam Greenlight page.
Purchase
In order to download this game you must purchase it at or above the minimum price of $9.99 USD. You will get access to the following files:
astrox_b66_win.zip
119 MB
astrox_b66_mac.zip
121 MB
astrox_b66_linux.zip
122 MB